Happily our new Euro Siblings Together Bee is up and running, all be it with only 11 people at the moment. Queen Bees have been allocated their months, and as no-one volunteered for the first month, I took it on. I searched amongst my books and on line to find a simple block that I could easily size up to the required 18-20". In the end I opted for a block called linoleum, which doesn't sound very exciting, but I think it will make a really bright, happy quilt.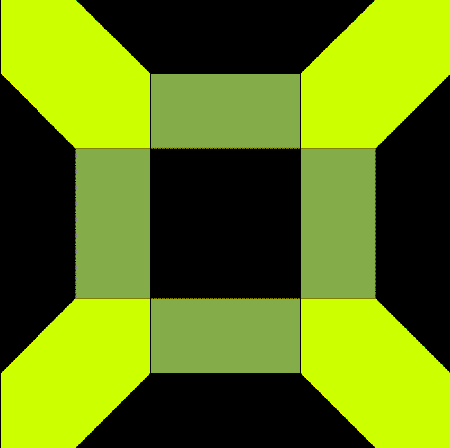 This block is from
blockcrazy
, but I took the original instructions from
quilt.com
and sized them up to 18". My instructions can be found
here
. And for bee members, I have started
a new thread
about my block, so feel free to ask any questions.
For my colour inspiration I used this fabric, which I bought ages ago, to make a childrens quilt but never used.
I still might not use it for this quilt, as I don't have enough for the whole back, but I've asked for blocks in these colours (minus the brown!).
Here's the first block I made
I have asked for the background fabric to be white, so that I can sash the blocks with something bright. That's the plan anyway!
As I said earlier, we are still looking for a 12th member, if I could persuade anyone to join us. You wouldn't have to be the Queen bee until right at the end, which would be May next year, and as you can see, we are trying to make the blocks simple and quick. We are making largely from our own stashes, to keep postage costs down, unless anyone can get any donations or sponsors for their month. And you only have to make one block per month. There, have I persuaded you?
Our flickr page is
here
if you want to follow how we are getting on. I am so looking forward to getting all my blocks in a seeing what the whole thing looks like together!